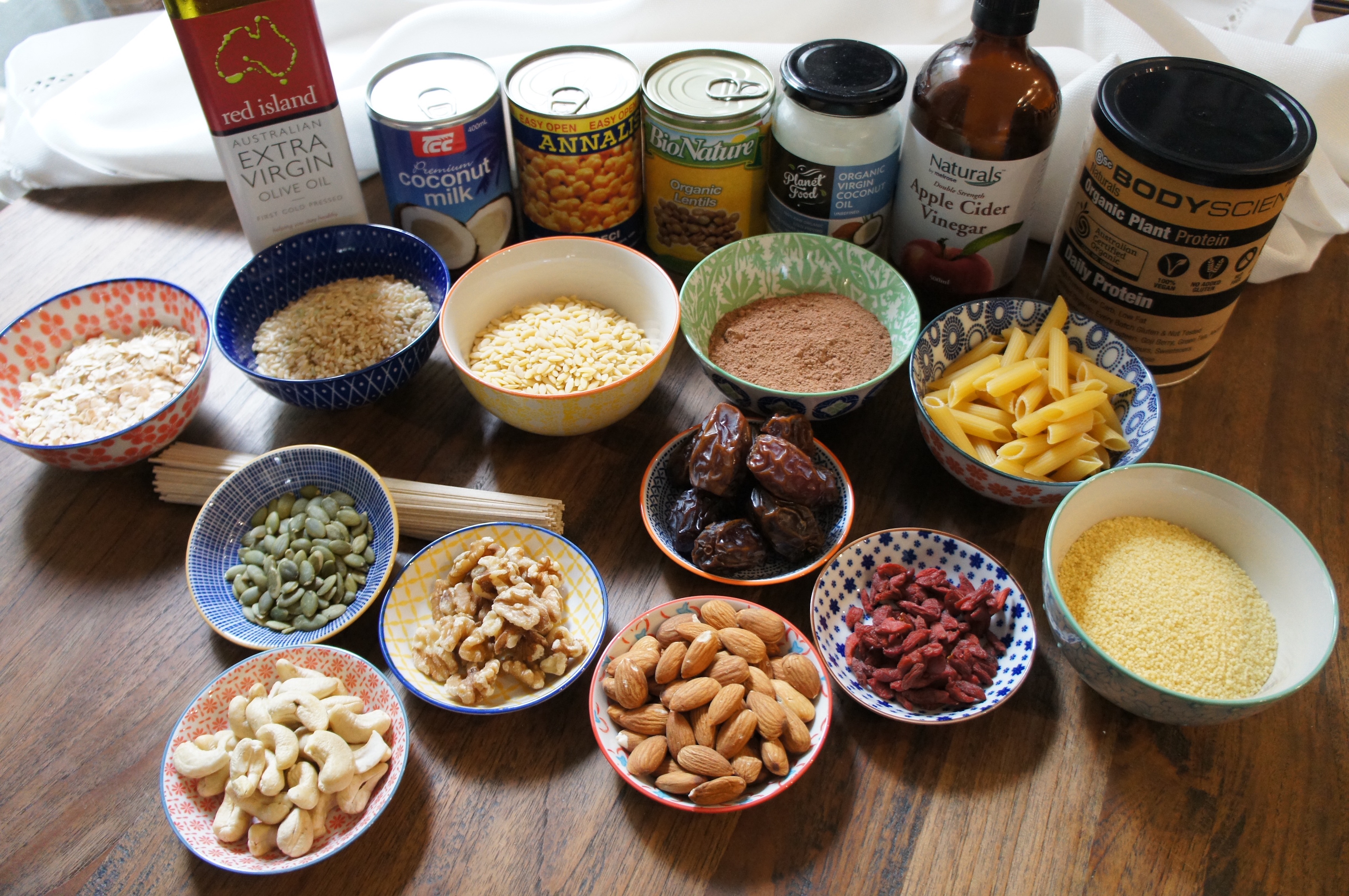 Vegan Pantry Essentials
OK, so perhaps you are thinking about moving towards a vegan diet and would like to know what's in the vegan pantry? What do you need to maintain this and be able to put together vegan meals without hours of preparation. There are a few things that you should stock as a matter of course, then just buy your fruit and vegetables fresh as needed (I like to use organic angels in Melbourne – they deliver and everything is always very fresh and in season and organic! plus they are really nice).
Please note: I don't include "faux" meat on this list – I don't like it – if you do enjoy it, feel free to add it to your list.
The top 13 items I use the most (this is tough) would have to be: banana, avocado, chickpeas, medjool dates, coconut milk, oats, rice, lentils, olive oil, almond milk, broccoli, soba, miso paste…
Canned and Dried Beans
I use canned organic beans all the time – I don't have time to soak beans with a full time job, kids etc Either way – canned or soaked beans – it's all good!
Chickpeas – kitchen staple. For hummus, falafel, soups, stews, curries (thai, indian), salad, mashed into burger patty etc
Red beans – soups, stews, Mexican lasagne, red beans and rice etc
White beans – soups, stews, salad
Black beans – Mexican dishes, taco mix, soups and stews
Lentils – brown or red – burger patties, soups, stews, dahl, salad etc
Grains, Flours and Bread
Flour — Oats — Pearl Barley — Quinoa — Risotto
Pasta — Noodles – buckwheat, soba, rice noodles, vermicelli etc
Rice – brown, white, arborio
Flax seeds — Sesame seeds — Naan — Tortilla — Pita
Nuts and Dried fruit 
Raw Almonds — Raw Cashews — Pecans — Hazelnuts — Peanuts
Pistachio — Walnuts — Medjool dates — Dried cranberry —
Dried Apricot — Sultanas — Pepitas — Pine Nuts
In the Fridge
Nuttelex or other vegan butter — Almond, soy and rice milk — Tofu — Coconut yoghurt
Bio cheese — Miso paste — Tofutti cream cheese — Tomato paste — Dark chocolate
Fruit and Vegetables
There are too many to mention but these are the staples for me in a week.
Corn — Onion — Zucchini — Tomato — Broccoli — Asparagus
Sweet Potato — Basil and Coriander — Red Capsicum
Mushrooms — Potato — Garlic — Citrus (lemon, lime. orange, mandarin)
Apple — Banana — Mango (when in season) — Pineapple
Berries (all kinds when in season)
Sauces and condiments
Coconut milk — Sun-dried tomatoes — Olives — Tahini — Mustard — Soy sauce  — Olive Oil — Apple Cider Vinegar
Balsamic, White and Red Vinegar — Vegetable stock powder
Snacks and Treats
I make most of my own treats and snack but here are some accidentally vegan treats that I like:
Oreos — Skittles — Original Pringles — Potato Chips — Ginger nut biscuits — Golden Crumpets
Hash browns — Puff Pastry — Popcorn — Weet-bix — Calippo Icy Poles — Smooze Ice blocks
Here is a comprehensive list of Australian Accidental Vegan food:

Other essential stuff
Coconut oil — Coconut water — Vegemite — Nutritional Yeast — Pure Maple Syrup
Raw Coconut Sugar — Cacao Powder — Coffee (!) — Herbal tea
I hope this list helps a little bit with your shopping and stocking your pantry.